Back to top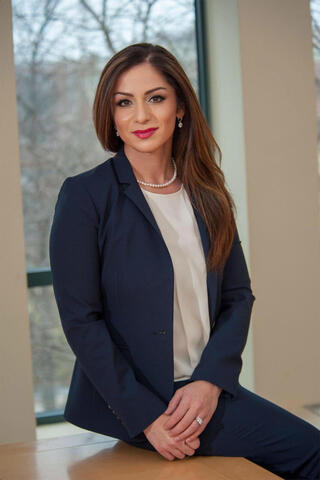 Core Faculty & Assistant Program Director, Marriage & Family Therapy Program
Education
APA-accredited Clinical Psychology Predoctoral Internship — The State of Connecticut Department of Mental Health & Addiction Services Psychology Internship Program
Doctor of Psychology in Clinical Psychology — Illinois School of Professional Psychology
Master of Arts in Marriage and Family Therapy — Adler University
Bachelor of Arts in Psychology and Sociology — Northern Illinois University
I Treat
10-15 Years Old
15-20 Years Old
Young Adult
Adult
Couple & Marriage
Interracial Couples
Family
LGB/TQ+
Issues I Treat
Addiction
Adult Children & Parent Relationship Issues
Affairs & Infidelity
Aging Issues
Anger Management
Anxiety Disorders
Autism
Caregiver Issues
Child-Parent Attachment Issues
Cognitive Flexibility / Executive Functioning
Couples Conflict
Cultural Transition / Immigration Issues
Racism Issues
Depression / Mood Disorders
Divorce / Marital Separation / Post-Divorce Adjustment
Domestic Violence
Emotion Regulation Issues
Empty Nest Issues
Families with Chronically Mentally Ill Members
Family of Origin Issues
Grief & Loss
Health Enhancement / Smoking Cessation / Diet / Illness Prevention
Divorce Impact on Children
In-law Relationships
Job Loss
Life Stage Transitions
Medical Illness / Chronic Illness / Disability
Men's Issues
Panic
Parenting Issues
Perfectionism
Personality Disorders
Phobias
Physical Abuse
Post Traumatic Stress Disorder (PTSD)
Premarital Counseling
Psychological Assessment & Testing / Neuropsychological Testing
Remarriage
School Refusal
School Stress
Self-Harm
Sexual Abuse
Sexual Issues
Sibling Issues
Special Needs Children & Their Families
Spirituality / Religion
Stress Management
Substance Abuse
Suicidality
College (Transition to)
Parenthood (Transition to)
Trauma
Women's Issues
Midlife (Transitions in)
Work / Life Balance
Workplace Issues
Types of Therapy
Cognitive Behavioral Therapy (CBT)
Diagnostic Assessment
Dialectical Behavior Therapy (DBT)
Emotion Focused Therapy
Emotionally Focused Couples Therapy
Integrative Systemic Therapy
Relational Cultural Therapy
About
Dr. Sahebi is a licensed marriage and family therapist at The Family Institute. She has specialized training in the treatment of trauma and provides therapeutic services to children/adolescents, adults, families, couples and groups. In addition to her experience within the outpatient clinical setting, Dr. Sahebi has a wide variety of clinical skill sets in treating severe and persistent mental illness, complex trauma, addictions, as well as conducting forensic psychological evaluations. She has completed advanced training in PREPARE/ENRICH premarital counseling as well as Gottman Couples Therapy levels 1 and 2. She is also a trained EMDR therapist and utilizes this empirically supported therapeutic modality in treatment of post-traumatic stress disorder and trauma.
Dr. Sahebi has expertise in program development and expansion efforts both within mental health agencies as well as in corporate settings for the past 20 years. She has also served as a Graduate Assistant Fellow for the American Association of Marriage and Family Therapy, Minority Fellowship Program for two consecutive years. Dr. Sahebi's previous clinical research has focused on reproductive decision-making, in choosing a childfree or parenting lifestyle, as part of a program expansion effort from in-vivo to online models. Additionally, in collaboration with the Wesleyan University Department of Psychology research team, Dr. Sahebi researched and initiated the implementation of a quality improvement project in a community mental health agency setting. This project relates specifically to cognitive remediation therapies for individuals that experience neurocognitive symptoms and are diagnosed with schizophrenia or schizoaffective disorders. Her most recent research involvement at The Family Institute has been in collaboration with the Couples and Health lab focused on long-distance relationships. Dr. Sahebi is committed to the development of effective and contextually informed interventions for underserved populations that are impacted by biopsychosocial stressors.
A number of Dr. Sahebi's work has received special recognition from various professional organizations and she has been invited to speak at numerous regional, national and international conferences on the following topics: family functioning; grandparent caregivers and biopsychosocial vulnerabilities; positive discipline and parenting; adopted children and identity development; emerging adult vulnerabilities; substance abuse and addiction; couple therapy and the trauma-model of infidelity; Asian-American mental health; problematic sexual behaviors; the process of acculturation and assimilation for immigrant families; neurocognitive rehabilitation. Dr. Sahebi is enthusiastic about integrating her research expertise with clinical practices to help individuals, couples and families better cope with life's stressors, overcome adversity and develop and maintain healthy relationships.
Other Professional Involvement/Leadership Positions
Dr. Sahebi is involved in education, research and serves as a mentor for the graduate students in the MSMFT and Counseling Programs. Dr. Sahebi is an adjunct professor in two different departments at Northwestern University where she teaches graduate level courses in treatment of addictions in the Master's in Counseling Program in the Center for Applied Psychological and Family Studies, as well as child and adolescent development in the Department of Education and Social Policy. She also guest lectures for a number of different courses within the Marriage and Family Therapy Program.
Selected publications/presentations
Dr. Sahebi is currently serving as an associate editor for the Encyclopedia of Couple and Family Therapy. She has also authored several of the manuscripts currently in print.
Awards
Recipient of the 2018 Dr. Christine Bard, Compassion and Skill in Rehabilitation Practice Award; nominated by the Illinois Chapter of the International Association of Rehabilitation Professionals
Recipient of the 2014 Illinois Association of Marriage and Family Therapy Maurlea Babb Conference Scholarship Award
Recipient of the 2013-2014 Illinois School of Professional Psychology Diversity Fellowship Scholarship Award
Recipient of the 2012-2013 Illinois School of Professional Psychology Academic Scholarship Award
Recipient of the 2011-2012 Alfred Adler Scholarship Award
Recipient of the Academic Achievement Award, Northern Illinois University
Insurance Accepted
Blue Cross Blue Shield
Self Pay
Out of Network Reimbursement