Back to top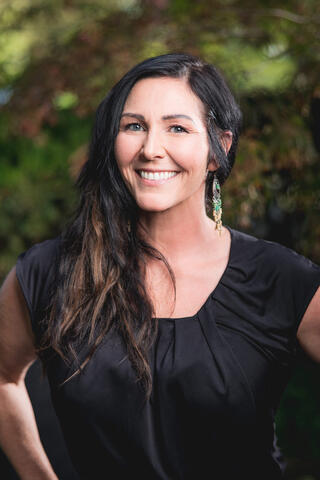 Core Faculty, Counseling Program
Lecturer
Counselor
Education
Ph.D., Counseling and Counselor Education, University of North Carolina at Greensboro
MS.Ed., Clinical Mental Health & Marriage, Couple, and Family Counseling, Southern Illinois University-Carbondale
B.A., Psychology, Southern Illinois University-Carbondale
A.AS., Interpreter Preparation, American Sign Language (ASL). John A. Logan College
I Treat
Young Adult
Adult
Older Adult
Couple & Marriage
Family
LGB/TQ+
Issues I Treat
Health Enhancement / Smoking Cessation / Diet / Illness Prevention
Therapists in Therapy
Emotion Regulation Issues
Stress Management
Anxiety Disorders
Affairs & Infidelity
Couples Conflict
Trauma
Adult Children & Parent Relationship Issues
Women's Issues
Child-Parent Attachment Issues
Eating Disorders
Addiction
Attention Deficit Disorder (ADD) & Attention Deficit Hyperactivity Disorder (ADHD)
Borderline Personality Disorder
Personality Disorders
Post Traumatic Stress Disorder (PTSD)
Caregiver Issues
Cognitive Flexibility / Executive Functioning
Work / Life Balance
Family Business Issues
Workplace Issues
Substance Abuse
Anger Management
College (Transition to)
Depression / Mood Disorders
Grief & Loss
Self-Harm
Family of Origin Issues
LGB/TQ+ Identity & Relationships
In-law Relationships
Job Loss
Kink / Alternative Lifestyles
Life Stage Transitions
Medical Illness / Chronic Illness / Disability
Midlife (Transitions in)
Money / Finance Related Issues
Obsessive Compulsive Disorder (OCD)
Panic
Parenthood (Transition to)
Parenting Issues
Perfectionism
Perinatal Mood / Anxiety Disorders
Phobias
Physical Abuse
Compulsions
Body Dysmorphic Disorder
Postpartum Depression
Premarital Counseling
Divorce / Marital Separation / Post-Divorce Adjustment
Remarriage
Retirement (Transition to)
Divorce Impact on Children
Domestic Violence
Sexual Abuse
Sibling Issues
Spirituality / Religion
Sport Psychology
Racism Issues
Step or Blended Families
Empty Nest Issues
Families with Chronically Mentally Ill Members
Suicidality
Polyamory, Non-monogamy, Non-traditional Relationships
Aging Issues
School Stress
Types of Therapy
Acceptance and Commitment Therapy (ACT)
CBT-informed
Couple Therapy
DBT-informed
Dialectical Behavior Therapy (DBT)
Family Therapy
Interpersonal Therapy
Mindfulness & Behavior Therapies
Narrative Therapy
Premarital Counseling
Sex Therapy
About
Dr. Cannon is an advocate for mental health services, a believer in holistic healing and wellness, a lover of nature, a self-care enthusiast, and a relational being who believes we all strive for connection at the core. As a fully licensed counselor (LCPC), National Certified Counselor (NCC), Approved Clinical Supervisor (ACS), Certified Life & Wellness Coach, and Certified Mindfulness Instructor, Dr. Cannon has experience working with clients who present a range of care needs (e.g., trauma, addiction, depression, anxiety, couples' and family issues, PTSD, ADHD, communication, disordered eating, sex and intimacy issues, sexual orientation struggles, adjustment disorders, co-occurring issues). She has worked in various mental health settings (i.e., residential treatment, college campuses, private practice) and has experience as a counselor, supervisor, university professor and was the Director of a top Counselor training clinic. Dr. Cannon believes therapeutic care should be rooted in wellness and welcomes the opportunity to connect.
Other Professional Involvement/Leadership Positions
Wellness Initiative Program Coordinator, Counseling Program
Member: ACA, ACES, ICA, CSI
Ad Hoc Reviewer: Counseling and Values Journal, The Clinical Supervisor, and Journal of College Counseling
Chi Sigma Iota- Upsilon Nu Chi President and associated positions (2015-2018)
Previous Assistant Editor (2017-2018) and Editorial Board Member: Counseling and Values Journal (2018-2021)
Selected publications/presentations
Murray, C. E., Ross, R., & Cannon, J. (2021). The happy, healthy, safe relationships continuum: Conceptualizing a spectrum of relationship quality to guide community-based healthy relationship promotion programming. The Family Journal, 29(1), 50–59. https://doi.org/10.1177/1066480720960416
Cannon, J. L. & Murray, C. E. (2019). Promoting healthy relationships and families: An exploratory study of the perceptions of resources and information and skill needs among couples, single adults, and parents. The Family Journal.
Cannon, J.L., & Boccone, P. J. (2019). Attachment injuries with bisexual clients and their monosexual partners during the coming out process. Journal of Bisexuality.
Cannon, J. L. and Umstead, L. K. (2018). Applying dbt to self-harm in college men: A case study. Journal of College Counseling
Insurance Accepted
Blue Cross Blue Shield
Self Pay
Out of Network Reimbursement