Back to top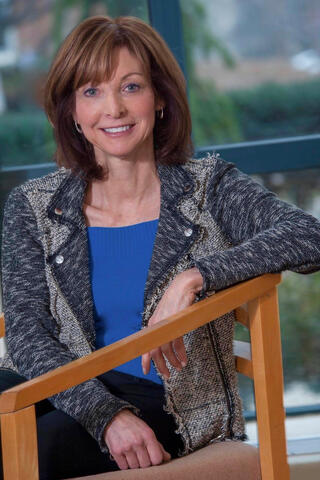 Senior Therapist
Coordinator of Psychiatry Residents Program
Clinical Lecturer
Board Certified
Education
Ph.D. in Clinical Psychology — University of Virgina
M.Ed. in Clinical Psychology — University of Virginia
B.A. in Psychology — University of Pennsylvania
I Treat
Adult
Older Adult
Couple & Marriage
Family
Issues I Treat
Divorce / Marital Separation / Post-Divorce Adjustment
Step or Blended Families
Divorce Impact on Children
Couples Conflict
Mediation / Conflict Resolution
Affairs & Infidelity
Premarital Counseling
Remarriage
Special Needs Children & Their Families
Life Stage Transitions
Midlife (Transitions in)
Women's Issues
In-law Relationships
Parenthood (Transition to)
Family of Origin Issues
Postpartum Depression
Retirement (Transition to)
Aging Issues
Child Behavioral Problems
Sibling Issues
Therapists in Therapy
Parenting Issues
Work / Life Balance
Empty Nest Issues
Child-Parent Attachment Issues
Workplace Issues
Cultural Transition / Immigration Issues
Types of Therapy
Couple Therapy
Discernment Counseling
Emotion Focused Therapy
Emotionally Focused Couples Therapy
Family Therapy
Integrative Systemic Therapy
Premarital Counseling
About
Dr. Amy Wagner is a licensed clinical psychologist and a licensed marital and family therapist at The Family Institute. She is also the coordinator of TFI's Marriage and Family Therapy Clinical Training Program for Psychiatric Residents at Northwestern University's Feinberg School of Medicine, in addition to her position as clinical lecturer in Northwestern's Psychology Department. Dr. Wagner is one of approximately 125 psychologists nationwide who are certified to treat couples and families, according to the Couple and Family Psychology division of the American Board of Professional Psychology (ABPP).
Dr. Wagner has over thirty years of experience treating adults, couples and families. She integrates current research with clinical theory to employ the most up-to-date, evidence-supported treatment options. Her passion and specialty area is working with individuals and couples to enrich or heal their relationships. This is often accomplished by focusing on improving relationship communication skills and raising awareness of repeated patterns, as well as understanding the emotions that foster the creation of a secure bond between partners. Working in a supportive, non-judgmental and affirming space, she promotes collaboration in identifying therapeutic goals, fostering healthy connections with others and a centered, positive sense of self. Dr. Wagner works extensively with individuals, couples and families going through transitional periods which include adjusting to marriage, parenthood and divorce or recoupling/remarriage.
Currently, Dr. Wagner is in the second phase of becoming a Certified Emotionally Focused (EFT) Therapist. Emotionally focused therapy for couples is an integrated model utilizing elements of humanistic, experiential and systemic approaches rooted in adult attachment theory. EFT certification designates expertise in the model of therapy and is recognized by the International Centre for Excellence in Emotionally Focused Therapy (ICEEFT).
Other Professional Involvement/Leadership Positions
Dr. Wagner has extensive experience helping clients throughout the divorce process. She received a certificate in mediation skills training through the Center For Conflict Resolution in Chicago and has been elected as a Fellow in the Collaborative Law Institute of Illinois for appointment as a Child Specialist and Divorce Coach.
Collaborative law — a consensual, non-litigation model of conflict resolution — has been practiced in Illinois for more than 15 years. The Illinois Collaborative Process Act, which took effect on January 1, 2018, formally recognized the model and its use in family law and other settings.
In the Collaborative Divorce Process, the Child Specialist is neutral and helps parents navigate the divorce process with the goals of minimizing any negative impact on children, developing an effective co-parenting relationship and preserving healthy parent-child relationships. The Collaborative Divorce Process is the only approach that includes a neutral child specialist as part of the divorce team.
A Collaborative Divorce Coach is a divorce professional with a background in mental health who helps couples recognize, negotiate and communicate emotional concerns during the divorce process, so they can participate more constructively in negotiations. They help identify and give voice to needs in order to create a mutually acceptable settlement agreement. Divorce coaching is future-focused and goal-oriented to aid couples in thinking more clearly and navigating through their divorce in a more respectful and constructive manner.
Awards
Approved Supervisor of the American Association of Marriage and Family Therapy (AAMFT)
Member of the American Family Therapy Academy (AFTA)
Recommended therapist of the Stepfamily Association of America, National Stepfamily Resource Center
Approved provider for the PREPARE/ENRICH premarital inventory
Insurance Accepted
Blue Cross Blue Shield
Out of Network Reimbursement
Self Pay