Back to top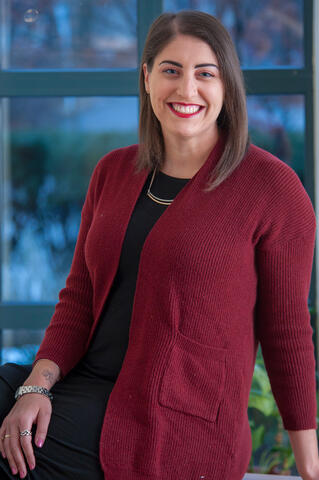 Therapist
Coordinator of Adolescent DBT Services
Education
M.A. in Counseling, Northwestern University
B.S. in Human Development & Psychological Services, Northwestern University
I Treat
10-15 Years Old
15-20 Years Old
Young Adult
Adult
Family
LGB/TQ+
Issues I Treat
Self-Harm
Suicidality
Personality Disorders
Borderline Personality Disorder
Emotion Regulation Issues
Anxiety Disorders
Stress Management
College (Transition to)
Child-Parent Attachment Issues
Child Behavioral Problems
Cognitive Flexibility / Executive Functioning
Obsessive Compulsive Disorder (OCD)
Compulsions
Divorce Impact on Children
Eating Disorders
Anger Management
Family of Origin Issues
Grief & Loss
Job Loss
Learning Disabilities
LGB/TQ+ Identity & Relationships
Life Stage Transitions
Panic
Parenting Issues
Perfectionism
Asperger's
Attention Deficit Disorder (ADD) & Attention Deficit Hyperactivity Disorder (ADHD)
Phobias
Post Traumatic Stress Disorder (PTSD)
School Refusal
School Stress
Autism
Sexual Abuse
Sexual Issues
Sibling Issues
Spirituality / Religion
Body Dysmorphic Disorder
Depression / Mood Disorders
Therapists in Therapy
Trauma
Video Gaming
Women's Issues
Work / Life Balance
Workplace Issues
Substance Abuse
Types of Therapy
Acceptance and Commitment Therapy (ACT)
Dialectical Behavior Therapy (DBT)
Exposure and Response Prevention (ERP)
Meditation
Mindfulness & Behavior Therapies
Psychodynamic Therapy
Radically Open Dialectical Behavior Therapy (RODBT)
About
Sydnie Dobkin is a psychotherapist, well-versed in addressing mental health concerns with adolescent and adults through DBT techniques. With a certification in yoga-informed psychotherapy and level one reiki, she strives to incorporate mindfulness into her therapies. Her specialty areas of treatment include suicidality and adolescents with anxiety and depression as well as other mood disorders.
Currently, Dobkin is the coordinator for TFI's Adolescent DBT Program where she leads skills training group sessions. A Northwestern University alum, she has earned an undergraduate degree in human development and psychological services and a master's degree in counseling. When she's not practicing, Dobkin enjoys spending time at Chicago's top brunch restaurants or playing with her beloved dogs, Sadie and George.
Other Professional Involvement/Leadership Positions
Dobkin is the multifamily group facilitator for Dialectical Behavioral Therapy at The Family Institute at Northwestern University.
Recent Publications
"Thirteen Reasons Why" and What Comes Next - Clinical Science Insights
Insurance Accepted
Blue Cross Blue Shield
Out of Network Reimbursement
Self Pay