Back to top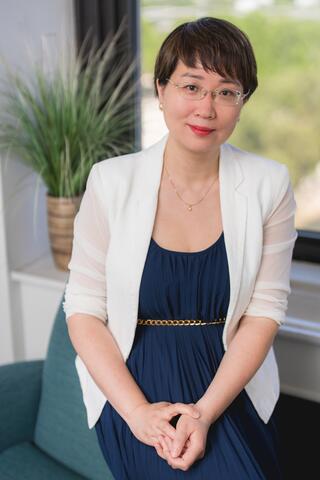 Education
M.S. in Marriage and Family Therapy, Northwestern University
I Treat
Adult
Couple & Marriage
Interracial Couples
Family
LGB/TQ+
Issues I Treat
Mediation / Conflict Resolution
Affairs & Infidelity
Divorce / Marital Separation / Post-Divorce Adjustment
Divorce Impact on Children
Sexual Issues
Family of Origin Issues
Cultural Transition / Immigration Issues
In-law Relationships
Premarital Counseling
Emotion Regulation Issues
Parenthood (Transition to)
Adult Children & Parent Relationship Issues
LGB/TQ+ Identity & Relationships
Money / Finance Related Issues
Remarriage
Polyamory, Non-monogamy, Non-traditional Relationships
Anger Management
Job Loss
Aging Issues
Domestic Violence
Life Stage Transitions
Caregiver Issues
Child-Parent Attachment Issues
Families with Chronically Mentally Ill Members
Family Business Issues
Retirement (Transition to)
Types of Therapy
Acceptance and Commitment Therapy (ACT)
Cognitive Behavioral Therapy (CBT)
Couple Therapy
Dialectical Behavior Therapy (DBT)
Emotion Focused Therapy
Emotionally Focused Couples Therapy
Family Therapy
Integrative Systemic Therapy
Narrative Therapy
Premarital Counseling
Psychodynamic Therapy
Relational Cultural Therapy
Sex Therapy
About
Ling Chen has a strong commitment to couples therapy, because she knows that many couples have difficulties, but they also have the ability to get through those difficult times. To her, a couple therapist is just like a lake. They are calm and inclusive. They help to reflect each partner's inner hurt, fear, longing and vulnerability, so that couples are motivated to change and to be better.
With the desire to help couples improve their relationships, she transitioned from her successful career in the financial field to become a Marriage and Family Therapist. She was trained at The Family Institute at Northwestern University where she received her master in Marriage and Family Therapy. Before that, she received her bachelor's degree in economics in China.
She mainly works with couples struggling with a variety of challenges including infidelity, communication, anger, sexual issues, constant fighting, depression, anxiety and substance abuse. She is LGBTQIA+ affirming and use she/her pronouns. She was trained under a systemic and integrative framework that allows she to tailor treatment plans for clients with different backgrounds and concerns.
Being born and raised in China, she offers therapy in English and Mandarin.
Insurance Accepted
Blue Cross Blue Shield
Self Pay
Out of Network Reimbursement