Back to top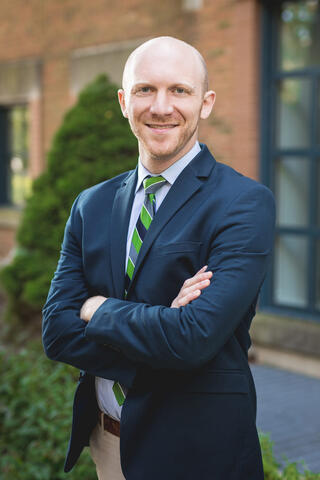 Core Faculty, Marriage & Family Therapy Program
Clinical Assistant Professor
Education
Ph.D. in Family Science — University of Maryland
M.S. in Couple and Family Therapy — University of Maryland
B.S. in Family Science — University of Maryland
I Treat
Adult
Older Adult
Couple & Marriage
Interracial Couples
Family
LGB/TQ+
Issues I Treat
Couples Conflict
Family of Origin Issues
LGB/TQ+ Identity & Relationships
Affairs & Infidelity
Kink / Alternative Lifestyles
Polyamory, Non-monogamy, Non-traditional Relationships
Sexual Issues
Racism Issues
Sibling Issues
Women's Issues
Spirituality / Religion
Adult Children & Parent Relationship Issues
Life Stage Transitions
Parenthood (Transition to)
In-law Relationships
Premarital Counseling
Mediation / Conflict Resolution
Remarriage
Divorce / Marital Separation / Post-Divorce Adjustment
Therapists in Therapy
Anxiety Disorders
Eating Disorders
Types of Therapy
Cognitive Behavioral Therapy (CBT)
Couple Therapy
Discernment Counseling
Emotionally Focused Couples Therapy
Family Therapy
Narrative Therapy
Premarital Counseling
Psychodynamic Therapy
Sex Therapy
About
Dr. Allen (he/him) completed his M.S. in Couple and Family Therapy and his Ph.D. in Family Science at the University of Maryland-College Park, from which he also received a graduate teaching certificate. Dr. Allen provides therapy that is client-centered and grounded in a commitment to social justice. He treats couples, non-romantic relationship dyads (e.g., sibling-sibling, parent-child, friend-friend) and individuals, employing techniques based in emotionally-focused, cognitive-behavioral and feminist family therapy models. He has a particular expertise in working with sexual and gender minorities, racial minorities, non-monogamous couples and couples with partners who are of different faiths, races and/or cultures.
Dr. Allen's research broadly examines queer families of various permutations, racial minority families and the intersection of the two. His dissertation research employed both quantitative and qualitative methodologies to better understand the family environment of trans & nonbinary persons and its influence on their physical and mental health.
Other Professional Involvement/Leadership Positions
Currently, Dr. Allen is a member of the editorial board of the Journal of Family Psychology and an executive board member of the Feminism & Family Studies Section of the National Council on Family Relations (NCFR). Previously, he was the co-chair of the Qualitative Family Research Network of NCFR.
Dr. Allen is also a clinical fellow of the American Association of Marriage and Family Therapy (AAMFT) and an AAMFT-approved supervisor. He is licensed in both Illinois and Washington, DC.
Selected publications/presentations
Roy, K. R. & Allen, S. H. (2022). Men, families, and the reconceptualization of masculinities. Journal of Family Theory & Review. DOI:10.1111/jftr.12441
Allen, S. H. & Leslie, L. A. (2020). Considering queer heterogeneity: Do immigrant Latinx sexual & gender minorities have poorer health outcomes than their U.S.-born counterparts? Journal of Gay & Lesbian Social Services, 32(4), 479-501.
Allen, S. H. & Mendez, S. N. (2018). Hegemonic Heteronormativity: Toward a new era of queer family theory. Journal of Family Theory & Review, 10(1), 70-86.
Awards
2021-2022: Chief Postdoctoral Clinical Scholar Fellowship, The Family Institute at Northwestern University
2020: Wesley Burr Graduate Student Scholarship Award, National Council on Family Relations
2018-2019: Graduate Teaching Fellowship — Teaching & Learning Transformation Center, University of Maryland
2017-2020: University Writing Fellowship, University of Maryland
2014: Rodler-Wood Scholarship for Academic Excellence in the Field of LGBT Studies — Department of Women's Studies, University of Maryland
Insurance Accepted
Blue Cross Blue Shield
Out of Network Reimbursement
Self Pay