Back to top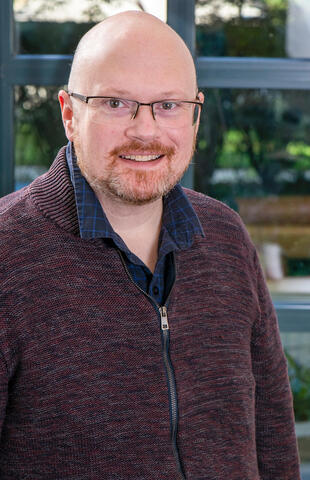 Clinical Lecturer
Therapist
Education
Ph.D. in Family Therapy — Saint Louis University
M.A. in Psychology — Southern Illinois University, Edwardsville
B.A. in Philosophy — Knox College
I Treat
15-20 Years Old
Young Adult
Adult
Couple & Marriage
Interracial Couples
Family
LGB/TQ+
Issues I Treat
Life Stage Transitions
LGB/TQ+ Identity & Relationships
College (Transition to)
Step or Blended Families
Polyamory, Non-monogamy, Non-traditional Relationships
Kink / Alternative Lifestyles
Parenting Issues
Grief & Loss
Cultural Transition / Immigration Issues
Midlife (Transitions in)
Couples Conflict
Therapists in Therapy
Racism Issues
Trauma
Workplace Issues
Sexual Issues
Affairs & Infidelity
Adult Children & Parent Relationship Issues
Emotion Regulation Issues
Depression / Mood Disorders
Divorce / Marital Separation / Post-Divorce Adjustment
Empty Nest Issues
Family of Origin Issues
In-law Relationships
Job Loss
Men's Issues
Panic
Parenthood (Transition to)
Perfectionism
Post Traumatic Stress Disorder (PTSD)
Spirituality / Religion
Remarriage
School Stress
Self-Harm
Sexual Abuse
Sibling Issues
Asperger's
Stress Management
Suicidality
Video Gaming
Types of Therapy
Acceptance and Commitment Therapy (ACT)
Couple Therapy
DBT-informed
Family Therapy
Integrative Systemic Therapy
Mindfulness & Behavior Therapies
About
Dr. Aaron Cohn's clinical work focuses on neurodiverse couples, especially couples in which at least one partner has ADHD or ADD. Other areas of focus include: LGBTQIA+ couples and individuals, people in creative, academic, or highly technical professions, people in relationships involving consensual non-monogamy, and parents seeking to repair or maintain their connection to their adolescent or young adult offspring. Throughout his years of training, he has worked with individuals with severe mental illness, adult and adolescent sex offenders, adults with intellectual disabilities, families in which children faced a high risk of abuse and neglect and in general community mental health settings. Dr. Cohn received his Ph.D. in Family Therapy from Saint Louis University School of Medicine. His dissertation investigated the reactions of therapists of all disciplines to transgender clients. His research interests include: efficacy and effectiveness of Integrative Systemic Therapy, theoretical integration of systems theory and third-wave behaviorism, relational applications of Acceptance and Commitment Therapy, technology and therapy and self-of-the-therapist issues involving sexual orientation, gender identity and expression, race and other cultural variables.
Other Professional Involvement/Leadership Positions
Dr. Cohn has served as secretary of the Saint Louis Association for Marriage and Family Therapy.
Selected publications/presentations
Lawrence, E., Cohn, A.S., & Allen, S. (2021). ACT for couples. In J.L. Lebow & D. Snyder (Eds.), Clinical Handbook of Couple Therapy, 6th Edition. NY: Guilford.
Burgoyne, N., & Cohn, A.S. (2020). Lessons from the transition to relational teletherapy during COVID-19. Family Process, 59(3), 974-988. doi: 10.1111/famp.12589.
Cohn, A.S. (2014). Romeo and Julius: A narrative therapy intervention for sexual-minority couples. Journal of Family Psychotherapy, 25(1), 73-77. doi:10.1080/08975353.2014.881696.
Awards
2018 Student Award, Missouri Association for Marriage and Family Therapy
Insurance Accepted
Blue Cross Blue Shield
Out of Network Reimbursement
Self Pay