Back to top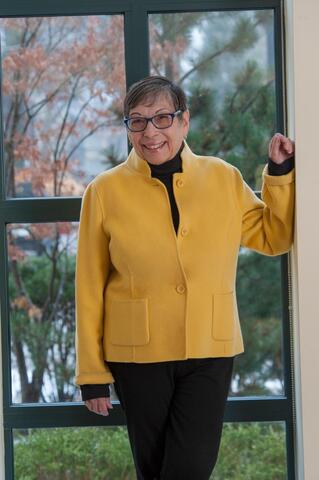 Senior Therapist
Assistant Clinical Professor of Psychology
Education
Ph.D. in Counseling Psychology — Northwestern University
Pre-Doctoral Internship — Psychosomatic and Psychiatric Institute-Michael Reese Hospital
Pre-Doctoral Internship — Outpatient Psychiatry, Northwestern Memorial Hospital, Chicago
M.S. in Early Childhood and Special Education — National Lewis University
B.S. in Speech and Language Pathology — University of Wisconsin
I Treat
Adult
Couple & Marriage
Family
Issues I Treat
Anxiety Disorders
Depression / Mood Disorders
Stress Management
Adult Children & Parent Relationship Issues
Family of Origin Issues
Couples Conflict
Women's Issues
Aging Issues
Medical Illness / Chronic Illness / Disability
Caregiver Issues
Grief & Loss
Life Stage Transitions
Midlife (Transitions in)
Work / Life Balance
Retirement (Transition to)
Therapists in Therapy
Types of Therapy
Couple Therapy
Emotion Focused Therapy
Emotionally Focused Couples Therapy
Family Therapy
Humanistic Therapy
Integrative Systemic Therapy
Interpersonal Therapy
Mindfulness & Behavior Therapies
Psychodynamic Therapy
About
Prior to becoming a clinical psychologist in 1989, Dr. Rubinowitz had a career in speech and language pathology working with children and adults, followed by work in social/emotional and learning disabilities with children. As a media consultant, she has over 400 citations in national and local magazines, newspapers, radio and television outlets; including the New York Times, the Chicago Tribune, Crain's Chicago Business, NPR, CBS, ABC, Parentin, Redbook, and US News and World Report.
Other Professional Involvement/Leadership Positions
Dr. Rubinowitz is the former director of Northwestern University's Master of Marriage and Family Therapy program for a decade and spent six years as the director of the Postdoctoral Fellowship at The Family Institute at Northwestern University. For 27 years she has been and currently is on the teaching and clinical supervision faculty at Northwestern University and The Family Institute. She has supervised hundreds of therapists in training and is a consultant to licensed therapists.
Selected publications/presentations
Rubinowitz, Linda. (1981) Dealing with Confidential Information in Day Care Programs. Day Care and Early Childhood Education, 40-42.
Awards
Outstanding Professional Accomplishment Award, the Family Institute
Distinguished Alumni Award, The Family Institute
University of Wisconsin Scholarship, Graduate Fellowship
Insurance Accepted
Self Pay
Out of Network Reimbursement