Back to top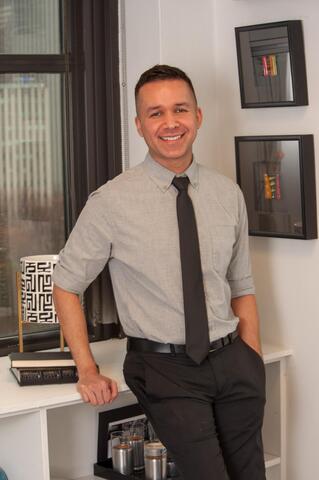 Education
M.S. in Marriage and Family Therapy — The Family Institute at Northwestern University
B.A. in Psychology — Georgia State University

I Treat
15-20 Years Old
Young Adult
Adult
Couple & Marriage
Interracial Couples
Family
LGB/TQ+
Issues I Treat
LGB/TQ+ Identity & Relationships
Suicidality
Self-Harm
Adult Children & Parent Relationship Issues
Divorce Impact on Children
Cultural Transition / Immigration Issues
Men's Issues
School Stress
Child Abuse
Emotion Regulation Issues
College (Transition to)
Post Traumatic Stress Disorder (PTSD)
Video Gaming
Child-Parent Attachment Issues
Depression / Mood Disorders
Affairs & Infidelity
Aging Issues
Anger Management
Racism Issues
Kink / Alternative Lifestyles
Compulsions
Couples Conflict
Attention Deficit Disorder (ADD) & Attention Deficit Hyperactivity Disorder (ADHD)
Custody Evaluations / Custody Issues
Developmental Disorders
Divorce / Marital Separation / Post-Divorce Adjustment
Domestic Violence
Eating Disorders
Empty Nest Issues
Families with Chronically Mentally Ill Members
Family Business Issues
Family of Origin Issues
Grief & Loss
Health Enhancement / Smoking Cessation / Diet / Illness Prevention
In-law Relationships
Job Loss
Child Behavioral Problems
Learning Disabilities
Life Stage Transitions
Mediation / Conflict Resolution
Medical Illness / Chronic Illness / Disability
Cognitive Flexibility / Executive Functioning
Midlife (Transitions in)
Money / Finance Related Issues
Obsessive Compulsive Disorder (OCD)
Panic
Parenthood (Transition to)
Parenting Issues
Perfectionism
Perinatal Mood / Anxiety Disorders
Phobias
Physical Abuse
Polyamory, Non-monogamy, Non-traditional Relationships
Body Dysmorphic Disorder
Caregiver Issues
Premarital Counseling
Remarriage
Retirement (Transition to)
School Refusal
Anxiety Disorders
Addiction
Sexual Abuse
Sexual Issues
Special Needs Children & Their Families
Spirituality / Religion
Step or Blended Families
Stress Management
Adoption Issues
Substance Abuse
Therapists in Therapy
Trauma
Women's Issues
Work / Life Balance
Workplace Issues
Types of Therapy
Brief Consultation (1-6 Sessions)
CBT-informed
Couple Therapy
DBT-informed
Emotionally Focused Couples Therapy
Family Therapy
Integrative Systemic Therapy
Mindfulness & Behavior Therapies
Narrative Therapy
Relational Cultural Therapy
Sex Therapy
About
Mr. Hernandez's extensive training and work experience has allowed him to work with clients of different ages and cultural backgrounds, presenting with a diverse range of symptoms. He is also able to communicate effectively with clients in both English and Spanish, and adapt his style and techniques according to individual needs.
Other Professional Involvement/Leadership Positions
Mr. Hernandez is an AAMFT Approved Supervisor. He is an administrative and clinical supervisor in the Marriage & Family Therapy program at The Family Institute at Northwestern University. 
Insurance Accepted
Blue Cross Blue Shield
Self Pay
Out of Network Reimbursement