Back to top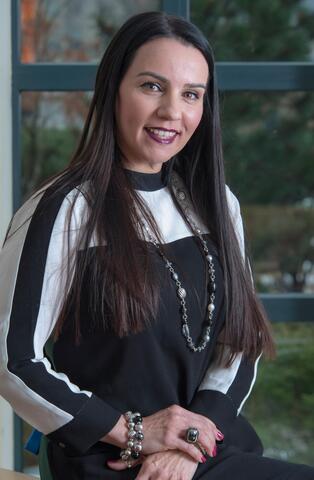 Therapist
Teaching and Supervising Faculty Marriage & Family Therapy Program
Supervisor Postdoctoral Fellowship Program
Education
M.S. in Marriage and Family Therapy and PhD Family Therapy — Nova Southeastern University
B.S. Languages and Linguistics — Georgetown University
J.D. — University of Puerto Rico School of Law
I Treat
15-20 Years Old
Young Adult
Adult
Couple & Marriage
Interracial Couples
Family
LGB/TQ+
Issues I Treat
Couples Conflict
Women's Issues
Perfectionism
Men's Issues
Affairs & Infidelity
Cultural Transition / Immigration Issues
Eating Disorders
Self-Harm
Premarital Counseling
College (Transition to)
Adult Children & Parent Relationship Issues
In-law Relationships
Divorce / Marital Separation / Post-Divorce Adjustment
Therapists in Therapy
Empty Nest Issues
Work / Life Balance
Emotion Regulation Issues
Family of Origin Issues
Midlife (Transitions in)
Depression / Mood Disorders
Child Behavioral Problems
Racism Issues
Job Loss
Remarriage
Anxiety Disorders
Family Business Issues
Life Stage Transitions
Parenting Issues
Grief & Loss
Money / Finance Related Issues
Sibling Issues
Spirituality / Religion
Sexual Issues
Parenthood (Transition to)
Stress Management
Workplace Issues
Postpartum Depression
Retirement (Transition to)
Anger Management
Step or Blended Families
Health Enhancement / Smoking Cessation / Diet / Illness Prevention
Polyamory, Non-monogamy, Non-traditional Relationships
Types of Therapy
Acceptance and Commitment Therapy (ACT)
Brief Consultation (1-6 Sessions)
Couple Therapy
Discernment Counseling
Emotion Focused Therapy
Emotionally Focused Couples Therapy
Family Therapy
Integrative Systemic Therapy
Narrative Therapy
Premarital Counseling
Relational Cultural Therapy
About
Dr. Torres-Gregory has extensive experience working with couples, adults, young adults, adolescents and families. In her practice, she assists clients struggling with individual and interpersonal issues arising from couple/marital distress, self-confidence, perfectionism, body image, disordered eating, self-harm, cultural differences, among others.
In addition to her clinical work, Dr. Torres-Gregory has a passion for training future marriage and family therapists. She has served as a clinical supervisor and faculty instructor in the Master of Science in Marriage and Family Therapy Program for over eight years. Additionally, Dr. Torres-Gregory supports post-doctoral fellows in expanding and deepening their clinical experience through supervision of their clinical work.
Dr. Torres-Gregory has clinical experience in diverse settings — private practice, in-patient and community — and has facilitated both therapeutic and support groups. In addition, she has lectured on various topics such as coaching parents through their children's emotional breakdowns, sibling rivalry, diversity sensitivity training, working in community settings with culturally diverse populations, difference-sensitive therapy and on the provision of difference-sensitive supervision of marriage and family therapists in training. Dr. Torres-Gregory has participated in professional panels discussing teen pregnancy and the trauma of incest/abuse/domestic violence, as well as strategies for unlocking career and business growth.
Other Professional Involvement/Leadership Positions
Dr. Torres-Gregory is a Clinical Member of the American Association of Marriage and Family Therapy and holds the Approved Supervisor Designation. Prior to becoming a therapist, Dr. Torres-Gregory practiced as an attorney for five years.
Recent Publications
Nixon, D., Marcelle Coney, D., Torres Gregory, M., Huntley, E., Jacques, C., Pasquet, M., Ravachi, R. (2010). Creating Community: Offering a liberation pedagogical model to facilitate diversity conversations in MFT graduate classrooms. Journal of Marital and Family Therapy, 36(2), 197-211.
Awards
Woman of Purpose award in 2016 for Leadership, Family, and Community Service.
Insurance Accepted
Blue Cross Blue Shield
Self Pay
Out of Network Reimbursement