Back to top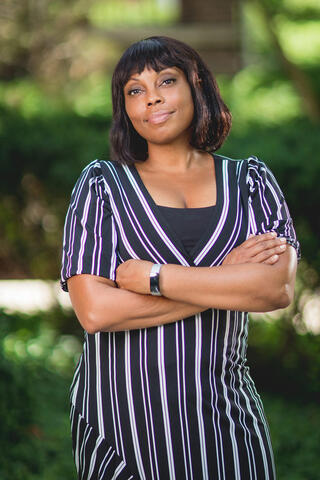 Core Faculty, Counseling Program
Clinical Lecturer
Therapist
Education
Ph.D. Counselor Education and Supervision — Old Dominion University
MSED Counseling — Old Dominion University
M.A. English — Old Dominion University
B.A. English — Cleveland State University
I Treat
Young Adult
Adult
Older Adult
LGB/TQ+
Issues I Treat
Life Stage Transitions
Work / Life Balance
Racism Issues
Therapists in Therapy
Trauma
Grief & Loss
Women's Issues
Midlife (Transitions in)
LGB/TQ+ Identity & Relationships
Workplace Issues
Stress Management
Job Loss
Family of Origin Issues
Empty Nest Issues
Retirement (Transition to)
College (Transition to)
Anxiety Disorders
Post Traumatic Stress Disorder (PTSD)
Aging Issues
Mediation / Conflict Resolution
Addiction
Panic
Adult Children & Parent Relationship Issues
Emotion Regulation Issues
Suicidality
Affairs & Infidelity
Kink / Alternative Lifestyles
Sexual Abuse
Parenthood (Transition to)
Money / Finance Related Issues
Postpartum Depression
Remarriage
Depression / Mood Disorders
Sexual Issues
Sibling Issues
Substance Abuse
Divorce / Marital Separation / Post-Divorce Adjustment
Parenting Issues
School Stress
Types of Therapy
Brief Consultation (1-6 Sessions)
CBT-informed
Cognitive Behavioral Therapy (CBT)
DBT-informed
Discernment Counseling
Humanistic Therapy
Mindfulness & Behavior Therapies
Narrative Therapy
Relational Cultural Therapy
About
As an experienced counselor, Dr. Parries is dedicated to working collaboratively with her clients to bring about positive change in their lives. Through the use of solution focused and cognitive behavioral theories and techniques, she seeks to assist clients with their difficulties. Dr. Parries finds that solution-focused techniques work well for clients who come in with the primary aim of reducing or relieving their symptoms. Reality therapy works well for issues related to negative and unsuccessful patterns of behaviors and making plans to change those patterns for a more productive life. Although she gravitates towards the previously mentioned approaches, Dr. Parries is, foremost, pro-client and will make herself familiar with and utilize whatever techniques are most appropriate for the client and presenting concerns. Employing an integrated approach, she applies a strengths based approach to help clients recognize the skills and abilities that they already possess. With these skills identified, she then assists clients with applying them to their current goals and plan of action.
In addition, Dr. Parries is a Licensed Clinical Professional Counselor and an Approved Clinical Supervisor. Her previous counseling experiences have given her the opportunity to work with individuals from a variety of backgrounds, with a host of presenting concerns.
Other Professional Involvement/Leadership Positions
Editorial Board Member, Journal of College Counseling
Member, American Counseling Association, Association of Multicultural Counseling and Development, Counselors for Social Justice, Association for Counselor Education and Supervision
Selected publications/presentations
Tovar-Murray, D., Parries, M., Gutheil, J., & Carpenter, R. (In press). Socio-demographics, beliefs, and attitudes as determinants of college students' career aspirations. The Career Development Quarterly. Parries, M. (2019). Experiential learning during study abroad: A phenomenological case study. Illinois Journal of Counseling, 5(1), 28-39.
Johnson, K.F. & Parries, M.J. (2016). The counseling professions alignment with the core competencies for interprofessional collaborative practice. Goodman, K., Locke, E., Johnson, K.F. & Claiborne, D.M. (Eds.). Interprofessional education and collaboration is a call for improvement across the board in the health sciences. [Special edition]. American Journal of Health Research. 4(2).
Insurance Accepted
Blue Cross Blue Shield
Out of Network Reimbursement
Self Pay