Back to top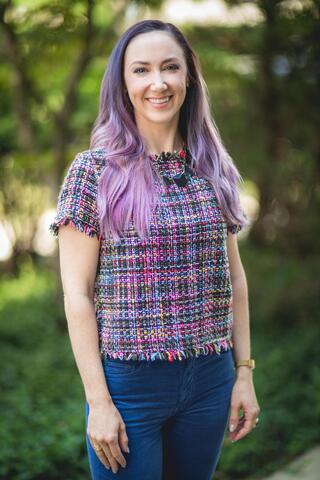 Clinical Psychologist / Staff Therapist
Education
Psy.D. in Clinical Psychology — Pepperdine University
M.A. in Psychology — Pepperdine University
B.S. in Business Administration — University of Colorado Boulder
I Treat
15-20 Years Old
Young Adult
Adult
Couple & Marriage
Interracial Couples
LGB/TQ+
Issues I Treat
Premarital Counseling
Couples Conflict
Kink / Alternative Lifestyles
Polyamory, Non-monogamy, Non-traditional Relationships
Women's Issues
LGB/TQ+ Identity & Relationships
Sexual Issues
Post Traumatic Stress Disorder (PTSD)
Trauma
Sexual Abuse
Addiction
Substance Abuse
Spirituality / Religion
Perfectionism
Family of Origin Issues
Sibling Issues
Depression / Mood Disorders
Anxiety Disorders
Emotion Regulation Issues
Stress Management
College (Transition to)
School Stress
Job Loss
Life Stage Transitions
Midlife (Transitions in)
Empty Nest Issues
Adult Children & Parent Relationship Issues
In-law Relationships
Health Enhancement / Smoking Cessation / Diet / Illness Prevention
Types of Therapy
Acceptance and Commitment Therapy (ACT)
CBT-informed
Couple Therapy
Emotion Focused Therapy
Emotionally Focused Couples Therapy
Humanistic Therapy
Integrative Systemic Therapy
Interpersonal Therapy
Mindfulness & Behavior Therapies
Premarital Counseling
Psychodynamic Therapy
About
Dr. Brenna Moore is a clinical psychologist and staff therapist at The Family Institute. She also works as the research coordinator of the Couple Prevention Pilot Project, a research study assessing the quality of romantic relationships. The study also provides workshops to participants teaching couples preventive skills to better handle future conflict. Dr. Moore runs the study's workshop on emotional intimacy. 

Dr. Moore's therapeutic training has covered many different types of clinical settings, including academic hospitals, community counseling centers, university counseling centers, K-12 schools, and Veteran Affairs hospitals. Dr. Moore received specialty training in individual therapy, couple therapy, trauma-focused therapies, addiction treatment, women's issues, and health psychology. 

Dr. Moore also has research interests in relationships and dating. Her doctoral dissertation was a qualitative study on relational resilience in the context of online dating during the COVID-19 pandemic. Her research is an extension of her passion for helping people foster resilience within stressful interpersonal contexts. This includes helping people channel strengths and inner resources to adapt to challenging experiences and learning to thrive in their environment and relationships. 

Dr. Moore enjoys integrating her clinical, research, educational, and personal experiences to promote resilience in individuals and couples.
Insurance Accepted
Blue Cross Blue Shield
Out of Network Reimbursement
Self Pay