Back to top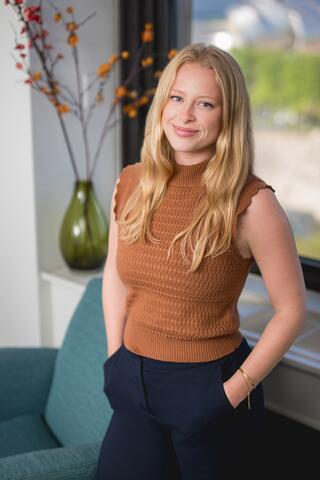 Therapist
Post Graduate Cognitive Behavioral Therapy Fellow
Education
M.S.W., Washington University in Saint Louis
B.A. in Psychology, University of Kansas


I Treat
10-15 Years Old
15-20 Years Old
Young Adult
Adult
Issues I Treat
Anxiety Disorders
Emotion Regulation Issues
Cognitive Flexibility / Executive Functioning
Stress Management
School Stress
College (Transition to)
Depression / Mood Disorders
Life Stage Transitions
Panic
Phobias
Post Traumatic Stress Disorder (PTSD)
Anger Management
Work / Life Balance
Women's Issues
Mediation / Conflict Resolution
Perfectionism
Obsessive Compulsive Disorder (OCD)
Types of Therapy
Acceptance and Commitment Therapy (ACT)
CBT-informed
Cognitive Behavioral Therapy (CBT)
DBT-informed
Mindfulness & Behavior Therapies
About
Grace Schmidt (she/her) is a dedicated mental health clinician with a strong background in psychology and social work. She earned her bachelor of arts in psychology at the University of Kansas and a master's degree in social work from the Brown School of Social Work at Washington University in Saint Louis, specializing in mental health.
During her graduate program, Ms. Schmidt gained valuable experience through her practicums at an early childhood center and Webster University's counseling department. She provided therapeutic services for children ages 3-8 utilizing cognitive behavioral techniques, and worked with college-aged students navigating significant life transitions.
Ms. Schmidt's expertise lies in working with young adults facing challenges such as anxiety, depression, life transitions, low self-esteem, relationships issues, trauma, OCD, and PTSD. She tailors her approach to each client's unique needs, utilizing evidence based practices such as CBT, MI, ACT, PE, CPT, and DBT.
With a warm, collaborative, and empathetic clinical style, Ms. Schmidt understands the importance of considering societal and systemic factors in her clients' lives. Drawing on her social work background, she views individuals within their environmental context, taking into account various influences on their well-being. Ms. Schmidt believes in fostering a therapeutic alliance built on strengths and collaboratively working towards goals, understanding the critical role of the therapeutic relationship in fostering growth. Passionate about continuous learning and understanding her clients on a deeper level, Ms. Schmidt is dedicated to delivering scientifically informed treatment and empowering individuals to thrive in their own lives.
Insurance Accepted
Blue Cross Blue Shield
Out of Network Reimbursement
Self Pay