Back to top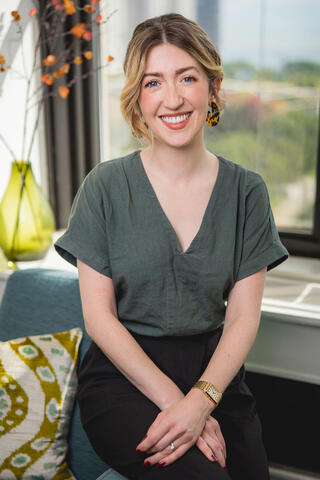 Core Faculty, MSMFT Program
Licensed Marriage and Family Therapist
Education
Master of MMFT, Lipscomb University
B.A. in Theological Ethics, Belmont University
I Treat
15-20 Years Old
Young Adult
Adult
Couple & Marriage
Interracial Couples
LGB/TQ+
Issues I Treat
Trauma
Therapists in Therapy
Women's Issues
Work / Life Balance
Post Traumatic Stress Disorder (PTSD)
Perfectionism
Life Stage Transitions
Family of Origin Issues
Family Business Issues
Emotion Regulation Issues
Couples Conflict
Child Abuse
College (Transition to)
Divorce / Marital Separation / Post-Divorce Adjustment
Adult Children & Parent Relationship Issues
Affairs & Infidelity
LGB/TQ+ Identity & Relationships
In-law Relationships
Parenthood (Transition to)
Child-Parent Attachment Issues
Perinatal Mood / Anxiety Disorders
Remarriage
Premarital Counseling
Postpartum Depression
School Stress
Sexual Abuse
Stress Management
Anxiety Disorders
Grief & Loss
Physical Abuse
Racism Issues
Self-Harm
Spirituality / Religion
Step or Blended Families
Learning Disabilities
Workplace Issues
Parenting Issues
Types of Therapy
Brief Consultation (1-6 Sessions)
CBT-informed
Couple Therapy
DBT-informed
Discernment Counseling
Emotionally Focused Couples Therapy
Humanistic Therapy
Integrative Systemic Therapy
Interpersonal Therapy
Premarital Counseling
About
Jennifer VanBoxel is a systemic therapist with advanced training in evidence-based models, including Eye Movement Desensitization and Reprocessing (EMDR) trauma therapy, Emotionally Focused Couples Therapy (EFT), and Prepare/Enrich Premarital Therapy. In conjunction with using evidence-based models in psychotherapy, she practices from a humanistic client-centered paradigm and is passionate about establishing emotional safety in therapy and helping individuals, couples, and families thrive within their relationships. Ms. VanBoxel has particular experience working with individuals and couples managing life transitions, anxiety/stress, school/vocational stress, relational issues/distress, and trauma histories.
In addition to her clinical work, Ms. VanBoxel is involved in expanding relational therapy and emotionally-focused intervention research for interpersonal trauma populations with Complex-PTSD.
Other Professional Involvement/Leadership Positions
Chair-Elect, Couple and Intimate Relationship Topical Interest Network of the American Association of Marriage and Family Therapy
Selected publications/presentations
Jennifer VanBoxel has several forthcoming publications in press, which include a clinical handbook for treating Couples in the context of C-PTSD and several empirical studies on systemic family therapy interventions.
Awards
American Association of Marriage and Family Therapy, Doctoral Student Ethics Competition 3rd Place Winner, 2021
Insurance Accepted
Blue Cross Blue Shield
Self Pay
Out of Network Reimbursement