Back to top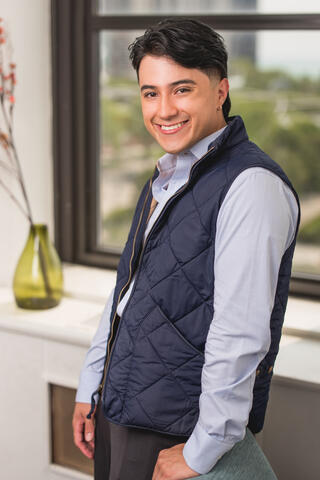 Education
Ph.D. in Clinical Psychology, Marquette University
M.S. in Clinical Psychology, Marquette University
B.S. in Psychology, University of South Florida
I Treat
15-20 Years Old
Young Adult
Adult
Interracial Couples
LGB/TQ+
Issues I Treat
Cultural Transition / Immigration Issues
LGB/TQ+ Identity & Relationships
Post Traumatic Stress Disorder (PTSD)
Borderline Personality Disorder
Depression / Mood Disorders
Anxiety Disorders
Trauma
Emotion Regulation Issues
Physical Abuse
Substance Abuse
Phobias
Couples Conflict
Polyamory, Non-monogamy, Non-traditional Relationships
Medical Illness / Chronic Illness / Disability
Grief & Loss
Health Enhancement / Smoking Cessation / Diet / Illness Prevention
Life Stage Transitions
Racism Issues
Self-Harm
Sexual Abuse
Stress Management
Eating Disorders
Cognitive Flexibility / Executive Functioning
Suicidality
Body Dysmorphic Disorder
Types of Therapy
Acceptance and Commitment Therapy (ACT)
Brief Consultation (1-6 Sessions)
CBT-informed
Cognitive Behavioral Therapy (CBT)
DBT-informed
Dialectical Behavior Therapy (DBT)
Emotion Focused Therapy
Emotionally Focused Couples Therapy
Interpersonal Therapy
Mindfulness & Behavior Therapies
Narrative Therapy
About
Dr. Juan Pablo Zapata (he/him) is a Postdoctoral Fellow at The Family Institute at Northwestern University. He received his doctorate in Clinical Psychology from Marquette University and completed his American Psychological Association (APA)-accredited pre-doctoral residency at The University of Washington Medical Center. Dr. Zapata is also a Postdoctoral Research Fellow at The Institute for Sexual and Gender Minority Health and Wellbeing (ISGM) at Northwestern. His research broadly focuses on health disparities in Latino men and in LGBT youth, particularly in the areas of HIV/AIDS, mental health disparities, alcohol and drug use, and social determinants of health.
Dr. Zapata has clinical experience in diverse settings — private practice, in-patient and community — and has facilitated both therapeutic and support groups. In addition, he has lectured on various topics such as working in community settings with culturally diverse populations, addressing gender identity in a medical setting, and culturally and linguistically adapted therapies for Latino populations.
Other Professional Involvement/Leadership Positions
Dr. Zapata is a Clinical Member of the American Psychological Association, Society for the Psychological Study of lesbian, Gay, Bisexual, and Transgender Issues, and the American Public Health Association.
Selected publications/presentations
Zapata, J.P., de St. Aubin, E. Alvarado, A. Hurtado, M. Rodriguez-Diaz, C.E., & Robles, G. (2023). Stakeholders' Perspectives about Cultural Strategies to Support PrEP for Latino Sexual Minority Men. Aids Education and Technology.
Zapata, J.P. (2023). Practices for Promoting Affirming Healthcare for Transgender and Gender Diverse Youth – A Practical Guide for Clinicians. Health Promotion Practice.
Zapata, J.P., de St. Aubin, E., Rodríguez-Díaz, C. & Malavé-Rivera, S. (2022). Using a social ecological model to facilitate adoption of pre-exposure prophylaxis among Latinx men who have sex with men: A systematic literature review. Journal of Latinx Psychology.
Insurance Accepted
Blue Cross Blue Shield
Out of Network Reimbursement
Self Pay