Back to top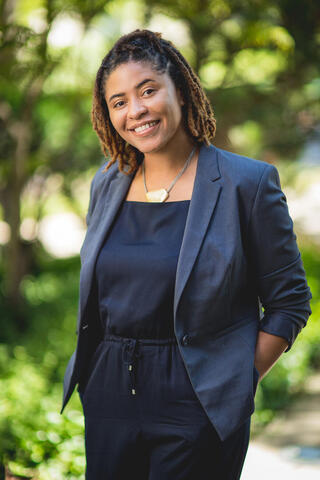 Therapist
Mindfulness & Behavior Therapies Program
Education
M.A. in Counseling Psychology — The Chicago School of Professional Psychology
B.A. in Media Arts — Columbia College Chicago
I Treat
10-15 Years Old
15-20 Years Old
Young Adult
Adult
Couple & Marriage
Interracial Couples
Family
Issues I Treat
Trauma
Stress Management
Post Traumatic Stress Disorder (PTSD)
Women's Issues
Racism Issues
Grief & Loss
Depression / Mood Disorders
Anxiety Disorders
Postpartum Depression
Perinatal Mood / Anxiety Disorders
Work / Life Balance
Life Stage Transitions
Spirituality / Religion
Self-Harm
Domestic Violence
Family of Origin Issues
Child-Parent Attachment Issues
Adult Children & Parent Relationship Issues
LGB/TQ+ Identity & Relationships
Couples Conflict
College (Transition to)
School Stress
Parenting Issues
Empty Nest Issues
Midlife (Transitions in)
Sibling Issues
In-law Relationships
Perfectionism
Therapists in Therapy
Types of Therapy
Acceptance and Commitment Therapy (ACT)
CBT-informed
Couple Therapy
Family Therapy
Humanistic Therapy
Meditation
Mindfulness & Behavior Therapies
Narrative Therapy
About
Karla Hargrove brings a diverse background of education and life experiences into her healing work as a trauma-centered psychotherapist. She received a M.A. in Counseling Psychology from The Chicago School of Professional Psychology and is an IL Certified Domestic Violence Advocate. After earning her Masters degree, Ms. Hargrove collaborated extensively with adolescents in a group counseling/clinical mentoring program called Working On Womanhood as a Senior WOW Counselor for Youth Guidance. She has additional training with individual adults, couples, seniors and psychotherapy groups from Center on Halsted, Lakeview Pantry and Salvation Army Family and Community Services.
Ms. Hargrove offers a vulnerable space that empowers clients to become stakeholders in their physical, mental, emotional, spiritual and relational wellness. Instilling hope, validation, compassion and empathy in client narratives are an ongoing portion of her clinical care. She enjoys building relationships with diverse individuals, couples, families and groups that are open to a humanistic, collaborative and strengths-based approach that focuses on the whole person.
Ms. Hargrove is  a Certified Teacher of MBSR — an evidence-based approach to stress reduction through mindfulness and meditation. This blends into her advocacy for inclusivity, healing justice and community resilience.
Insurance Accepted
Blue Cross Blue Shield
Out of Network Reimbursement
Self Pay