Back to top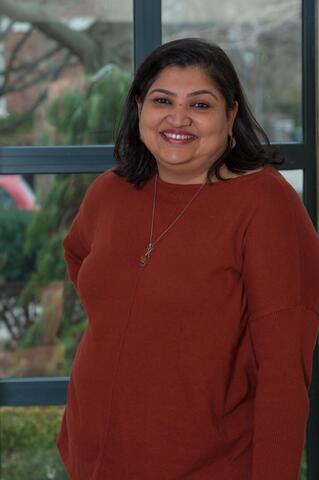 Therapist
Associate Researcher
Education
Ph.D. in Clinical Social Work
M.Phil. in Clinical Psychology
I Treat
15-20 Years Old
Young Adult
Adult
Issues I Treat
Anxiety Disorders
Depression / Mood Disorders
LGB/TQ+ Identity & Relationships
Therapists in Therapy
College (Transition to)
Grief & Loss
Family of Origin Issues
Job Loss
Cultural Transition / Immigration Issues
Aging Issues
Borderline Personality Disorder
Women's Issues
Phobias
Panic
Couples Conflict
Perinatal Mood / Anxiety Disorders
Eating Disorders
Emotion Regulation Issues
Postpartum Depression
Empty Nest Issues
Emotion Regulation Issues
Empty Nest Issues
Life Stage Transitions
Midlife (Transitions in)
Obsessive Compulsive Disorder (OCD)
Premarital Counseling
Retirement (Transition to)
Stress Management
Types of Therapy
Brief Consultation (1-6 Sessions)
CBT-informed
Couple Therapy
Exposure and Response Prevention (ERP)
Humanistic Therapy
Integrative Systemic Therapy
Interpersonal Therapy
Psychodynamic Therapy
About
Dr. Kumaria has many years of experience working in a variety of clinical settings including hospitals, community clinics and in private practice. She has worked in India and in the USA and is comfortable working with clients from diverse walks of life. She is deeply interested in psychotherapy research, in order to bridge practice and research and maintain an active research agenda. She has written, published and presented at various international and national conferences on psychotherapy, clinician wisdom and psychotherapist development.
Other Professional Involvement/Leadership Positions
Dr. Kumaria is an assistant adjunct professor at Smith College School of Social Work. She was a pre-dissertation Fellow at the Chicago Institute of Psychoanalysis.
Selected publications/presentations
Kumaria, S., Bhola, P. & Orlinsky, D. E. (2017). Influences that count: Professional development of psychotherapists and counsellors in India. Asia Pacific Journal of Counselling and Psychotherapy. Advance online publication. https://10.1080/21507686.2017.1416416.

Bhola, P., Kumaria, S. & Orlinsky, D. E. (2012). Looking within: Self-perceived professional strengths and limitations reported by psychotherapists in India. Asia Pacific Journal of Counselling and Psychotherapy, 3 (12), 161-174.

Orwat, J., Kumaria, S., Spira, M., Boyle, L., & Besinger, A. (2017). Class participation as a pedagogical tool in social work education. Social Work Education: An international Journal. Advance online publication. https://doi.org/10.1080/02615479.2017.1401601

Book Chapters: Northcut, T. B., Heller, N. R. & Kumaria, S. (2016). Utilizing cognitive-behavioral interventions in psychodynamic practice. In Berzoff, J., Flanagan, L. M. & Hertz. P. (Eds.) Inside Out and Outside In. (4th ed.) (220-248). Lanham, MD: Rowman & Littlefield.

Singh, S., Kumaria, S. & Berg, K. (2014). Poverty, Health, and Asian Non-linearity. In Haymes, S., Vidal de Haymes, M., & Miller, R. (Eds.) The Routledge Handbook of Poverty in the United States. (489-95.) New York: Routledge.

Orwat, J., Kumaria, S. & Dentato, M. (2018). Structure and financing of behavioral healthcare. In Moniz, C. & Gorin, S. (Eds.) Behavioral and Mental Health care Policy and Practice. (Under Publication)
Insurance Accepted
Blue Cross Blue Shield
Self Pay
Out of Network Reimbursement