Back to top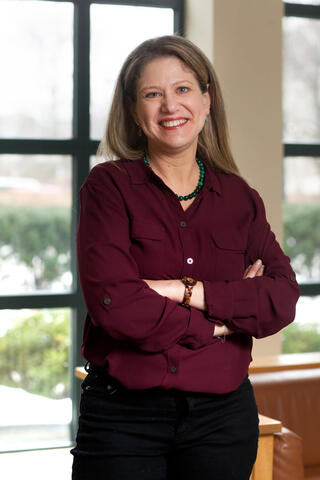 Director of Translational Science
Education
Clinical Psychology — University of California, Los Angeles
APA-accredited clinical psychology internship — UCLA Semel Institute of Neuroscience and Human Behavior
M.A. in clinical psychology — University of California, Los Angeles
B.A. in psychology — Emory University, Atlanta, GA
Academic Bio
Dr. Erika Lawrence is the Director of Translational Science at The Family Institute and a Research Professor in the Psychology Department at Northwestern University. She received her B.A. in Psychology at Emory University, and her M.A. and Ph.D. in clinical psychology at UCLA. Her past academic positions include tenure-track and tenured professorships at the University of Iowa and the University of Arizona prior to joining The Family Institute. Her work has been funded by the DOJ, NIMH, NICHD and the CDC.
Dr. Lawrence's work has provided at least three significant contributions to the field. First, in collaboration with a strong team of graduate and undergraduate research assistants, including Amie Zarling, she adapted Acceptance and Commitment Therapy in a group format to successfully treat domestic violence. She and her lab were pioneers in the field in applying and adapting this treatment model to this pervasive and destructive social problem. While conducting her treatment studies in this area, she and her team demonstrated that they were able to implement it statewide and still maintain its effectiveness at reducing IPV when working with a variety of agencies and communities. These findings are currently being replicated in MN and other states.
Dr. Lawrence received the Distinguished Contribution to Family Psychology Award from APA's Society for Couple and Family Psychology (Division 43) for her pioneering intervention. The Pew Institute also honored her intervention for being the only IPV intervention that is both empirically effective and cost-effective, and it was featured on NPR Marketplace as an example of a program that is both effective at reducing target behavior and cost-effective.
Dr. Lawrence's second notable contribution to the field is the development of the Relationship Quality Interview (RQI), the first fully psychometrically validated interview, in which she operationalized relationship concepts in a flexible manner that allows the field to explore constructs such as conflict, support, intimacy, sex and respect in a more nuanced manner than is typical in self-report or behavioral observation. The interview allows researchers to address these constructs in a richer way by collecting multiple examples of the different domains across six months, so that is it less of a "snapshot" of couple interaction and more of a multi-dimensional tapestry.
Dr. Lawrence considers one of her greatest contributions to be her commitment to mentoring future family psychologists, both through her own students and in her interactions with junior faculty and post-doctoral associates, thus ensuring the continuity and quality of couple and family psychology. She has pursued this goal through service to our field, serving as VP of Science for APA's Division 43: Society for Couple and Family Psychology for two terms, and then as President of this Society. She also has served as a Co-President of the ABCT Couple Research and Therapy Special Interest Group.
Dr. Lawrence's work represents her deep motivation to improve couple and family psychology with regards to dissemination and implementation. This interest forms the cornerstone of her job as Director of Translational Science at The Family Institute at Northwestern University. She believes it is critical to train people in the appropriate methods and stage models for effective program development and implementation, and she is at the forefront of this work in her role at The Family Institute.
Other Professional Involvement/Leadership Positions
Special Appointments
National Partnership to End Interpersonal Violence (NPEIV) : Steering Committee for the NPEIV 2010 Conference , Co-Chair, Research Task Force, 2008-2010
APA Board of Scientific Affairs, representative for the Society for Family Psychology, 2007- 2011
Think Tank on Violence and Abuse in Relationships: Connecting Agendas and Forging New Directions, Presidential Initiative by Alan Kazdin, American Psychological Association, 2008
Co-Chair Incorporating Couple and Family Processes into the DSM Committee; co-sponsored by ABCT Couples Research & Therapy Group and APA Society for Family Psychology; multi-disciplinary organization
National Offices Held
American Psychological Association Division 43 (Society for Couple and Family Psychology): President-Elect, President, Past-President (2013-2015); Executive Committee: Vice President for Science, 2007-2011)
Society for the Science of Clinical Psychology (SSCP; APA Division 12, Section 3): Newsletter Editor, 2009-2012
ABCT Couples Research and Therapy Special Interest Group: Co- President, 2003-2005; Treasurer, 2000-2002; Chair, Student Research Award Committee, 2002-2003, 2007–2009
Past and Present Editorial Board Appointments
Journal of Family Psychology
Journal of Social and Personal Relationships
Partner Abuse
Selected Publications & Presentations
Representative Recent Publications
Brock, R.L., Franz, M., O'Bleness, J., & Lawrence, E. (2019). The dynamic interplay between satisfaction with intimate relationship functioning and daily mood in low-income outpatients. Family Process. doi:10.1111/famp.12402
O'Hara, K.L., Duschschere, J.E., Shanholtz, C.E., Reznik, S.J., Beck, C.J., & Lawrence, E. (2019). Multidisciplinary Partnership: Targeting aggression and mental health problems of adolescents in detention. American Psychologist, 74, 329-342. doi:10.1037/amp0000439
O'Hara, K., Duchschere, J.E., Beck, C.J.A., & Lawrence, E. (2017). Adolescent-to-parent violence: Theory and standardized research methods are needed to translate research into effective practice. Adolescent Research Review.
Representative Recent Presentations
Lawrence, E. (Chair). (August, 2019). Applying Acceptance and Commitment Therapy (ACT) to the Treatment of intimate partner violence and sexual misconduct. Symposium conducted at the American Psychological Association (APA) Annual Convention, Chicago, IL.
Lawrence, E. (Chair). (November, 2019). Applying Acceptance and Commitment Therapy to the treatment of domestic violence, stalking and sexual misconduct. Symposium conducted at the Association for Cognitive and Behavioral Therapies (ABCT), Atlanta, GA.
ACTV Certification Training (Lead Trainer, 2019). Conducted four-day training in ACTV for certification of 25 DOC facilitators in Ramsey County, MN.
Awards
Association for Psychological Science (APS) Fellow
APA Division 43 Distinguished Service Award
APA Fellow, Division 43, Society for Family Psychology