Back to top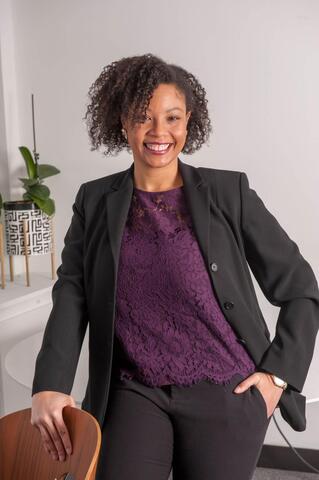 Therapist
Transitions to Parenthood Program
Education
M.A. in Counseling Psychology — Northwestern University
B.S. in Psychology — University of Illinois at Urbana-Champaign

I Treat
Young Adult
Adult
Couple & Marriage
Interracial Couples
LGB/TQ+
Issues I Treat
Depression / Mood Disorders
Anxiety Disorders
Panic
Work / Life Balance
Stress Management
Life Stage Transitions
Couples Conflict
Premarital Counseling
Affairs & Infidelity
LGB/TQ+ Identity & Relationships
Parenthood (Transition to)
Perinatal Mood / Anxiety Disorders
Postpartum Depression
Family of Origin Issues
Grief & Loss
Perfectionism
Polyamory, Non-monogamy, Non-traditional Relationships
Racism Issues
Sexual Issues
Therapists in Therapy
Parenting Issues
Trauma
Women's Issues
Types of Therapy
Brief Consultation (1-6 Sessions)
CBT-informed
Couple Therapy
DBT-informed
Emotion Focused Therapy
Emotionally Focused Couples Therapy
Humanistic Therapy
Integrative Systemic Therapy
Interpersonal Therapy
Meditation
Mindfulness & Behavior Therapies
Narrative Therapy
Premarital Counseling
Psychodynamic Therapy
Relational Cultural Therapy
About
Sharday Love is a therapist at The Family Institute at Northwestern University. Before joining The Family Institute, Ms. Love spent four years at a group private practice, using a multiculturally sensitive approach to create a welcoming space; she worked with individuals and couples from diverse backgrounds and orientations around a variety of presenting concerns. Ms. Love specializes in working with relationship issues, and issues related to attachment and connection.
While at the University of Illinois, Ms. Love developed a research interest in attachment style in adult romantic relationships. She believes that the need for attachment, connection, belonging and acceptance are often at the core of unhappiness and can lead to depression, anxiety, self-esteem issues and problems within interpersonal and romantic relationships. Ms. Love utilizes an integrative approach to help clients gain insight into attachment needs, and to better communicate those needs with partners and loved ones; to recognize and change unhealthy patterns and relationships; and to practice self-love. As a member of the Transitions to Parenthood Team, she also works with new and expecting parents as they learn to adapt to the addition of a child, as well as manage perinatal mood and anxiety disorders.
Other Professional Involvement/Leadership Positions
Ms. Love is a triadic supervisor for the Counseling Program at Northwestern University.
Insurance Accepted
Blue Cross Blue Shield
Out of Network Reimbursement
Self Pay