Back to top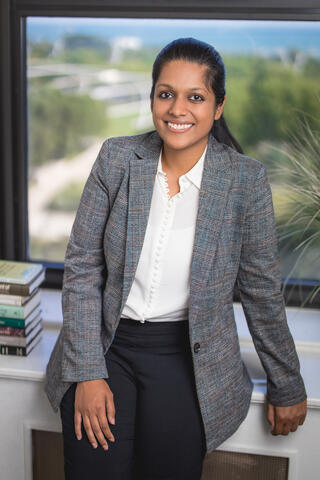 Madigan Family Clinical Research Postdoctoral Fellow
Education
Ph.D. in Clinical Psychology, Miami University
M.A. in Clinical Psychology, Miami University
M.A. in Psychology with Specialization in Clinical Psychology, Tata Institute of Social Sciences
B.A. (Hons.) in Psychology, Lady Shri Ram College for Women, Delhi University
I Treat
Young Adult
Adult
Older Adult
Couple & Marriage
Interracial Couples
Issues I Treat
Cultural Transition / Immigration Issues
Depression / Mood Disorders
Anxiety Disorders
Anger Management
Couples Conflict
Affairs & Infidelity
Men's Issues
Emotion Regulation Issues
Perfectionism
Family of Origin Issues
Adult Children & Parent Relationship Issues
Women's Issues
Post Traumatic Stress Disorder (PTSD)
Trauma
Obsessive Compulsive Disorder (OCD)
Panic
Stress Management
Psychological Assessment & Testing / Neuropsychological Testing
LGB/TQ+ Identity & Relationships
Borderline Personality Disorder
Substance Abuse
Grief & Loss
Phobias
Suicidality
Sexual Issues
Types of Therapy
Brief Consultation (1-6 Sessions)
CBT-informed
Couple Therapy
Diagnostic Assessment
Dialectical Behavior Therapy (DBT)
Exposure and Response Prevention (ERP)
Interpersonal Therapy
About
Dr. Pankhuri Aggarwal is the Madigan Family Clinical Research Postdoctoral Fellow at The Family Institute. Dr. Aggarwal is extensively trained in providing evidence-based and culturally informed psychotherapy, and clinical assessment in both inpatient and outpatient settings, nationally and internationally. Dr. Aggarwal completed her clinical internship at The Perelman School of Medicine, University of Pennsylvania, where she worked primarily with individuals with mood and anxiety disorders, early onset psychosis, trauma, and cancer. She also provided integrative behavioral couples therapy (IBCT) and infidelity-focused counseling to active duty members, veterans, and their families.
Dr. Aggarwal treats individuals and couples for a wide range of mental health concerns. She primarily utilizes an interpersonal process approach in therapy and incorporates principles from Cognitive Behavioral Therapy (CBT), Dialectical Behavioral Therapy (DBT), and mindfulness. Dr. Aggarwal is also trained in providing brief, goal-oriented, manualized treatments, including but not limited to Exposure and Response Prevention (EX/RP) for OCD, Prolong Exposure (PE) and Cognitive Processing Therapy (CPT) for PTSD, and Cognitive Behavioral Therapy for Insomnia (CBT-I) for insomnia.
Dr. Aggarwal received her M.A. and Ph.D. in Clinical Psychology from Miami University. During her time at Miami, she provided individual and group therapy at a university training clinic, student counseling services, and an inpatient psychiatric hospital. Dr. Aggarwal's clinical and research interests include interpersonal factors of depression and suicide, culturally-responsive education, and training in health service psychology. Through her work, Dr. Aggarwal aspires to create more representative, inclusive, and relevant scholarly literature in the field of mental health. At The Family Institute, Dr. Aggarwal will be working closely with Dr. Erika Lawrence to incorporate principles of dissemination and implementation research in targeting intimate partner violence.
Other Professional Involvement/Leadership Positions
Member, Global Mental Health Committee, Society for the Science of Clinical Psychology, 2023-Present Member, Council of University Directors of Clinical Psychology, 2020-2022
Selected publications/presentations
Szkody, E., Aggarwal, P., Daniel, K. E., Boland, J. K., Sumida, C., Peterman, A., Washburn, J., & Selby, E. (2023). The differential impact of COVID-19 across BIPOC health service psychology students. Journal of Clinical Psychology, 79(9), 2101-2123
Ortiz, S., Aggarwal, P., Jain, A., Singh, N., George, T.S., Smith, A., & Raval, V. V. (2022). Examining the relationship between academic expectations and suicidal ideation among college students in India using the Interpersonal Theory of Suicide. Archives of Suicide Research. Advance online publication
Aggarwal, P., Raval, V. V., Chari, U., Raman, V., Kadnur Sreenivas, K., Krishnamurthy, S., & Viswesweriah, A. M. (2021). Clinicians' perspectives of diagnostic markers for depression among adolescents in India: An embedded mixed-methods study. Culture, Medicine, & Psychiatry, 45(2), 163-192
Kalia, V., Aggarwal, P., & Raval, V. V. (2021). Buffering against parent-child conflict: Exploring the role of biculturalism in the relationship between South Asian college students and their parents. In D. J. Johnson, S. S. Chuang, & J. Glozman (Eds.), Re/Formation and Identity: Intersectionality, Development, Culture, and Immigration. New York, NY: Springer Science + Business Media
Aggarwal, P., Wiese, D., & Bhuptani, P. (2021). Relational ecological model of identity: A tool for providing culturally competent clinical care in India. International Perspectives in Psychology: Research, Practice, Consultation, 11(1), 18-27
Awards
Presidential Proclamation and Medallion–Diversity, Equity, and Inclusion Taskforce, Miami University, 2020
The Ohio Senatorial Citation and Office of the Mayor Proclamation for Diversity Initiatives, 2020
Marian K. Hume Named Scholar Award, Philanthropic Educational Organization, 2019-2020
Insurance Accepted
Blue Cross Blue Shield
Out of Network Reimbursement
Self Pay